Dutch interest in Ukraine is not something new. As early as the seventeenth century, Dutch media reported on political developments in lands that were already known as Ukrainian territories. At that time, the lands which currently lie within Ukraine's borders were a bone of contention for Poles, Russians, Cossacks, and Tatars. Dutch poets also wrote about these struggles, especially if they were important to the Dutch economy.
In 1649, for example, the renowned poet Joost van den Vondel commented on Tatar raids in Ukrainian territories, which "laid Poland in ashes" and "threatened us here with famine": a clear reference to the grain trade between Poland and the Dutch Republic. Vondel obviously knew that large amounts of grain were produced in Ukraine, which at the time formed part of the Polish-Lithuanian Commonwealth. From the south, the grain was then transported to Gdańsk, where it was bought in bulks by Dutch merchants.
A few years later, in 1657, the anonymous author of a Dutch pamphlet reacted to the many wars which crippled the Polish-Lithuanian Commonwealth: it was fighting the Cossacks, Tatars, Russians, and Swedes all at once – and was facing heavy losses. According to the author, the proud Polish nobles themselves were to blame:
Ukraine is the beginning of the game,
The Polish nobility, proud and fierce
Is the cause of these disasters;
Who knows how the game will end,
Pride comes before a fall,
Everyone comes to fight here.
These verses obviously refer to the 1648 Cossack Uprising, led by Bohdan Khmelnytsky, who according to the poem aimed to lift "the proud Polish nobility from its saddle". Later on, the focus shifts to the Swedish invasion of Poland, and the Dutch author argues in favor of sending aid to Gdańsk in order to protect the grain trade.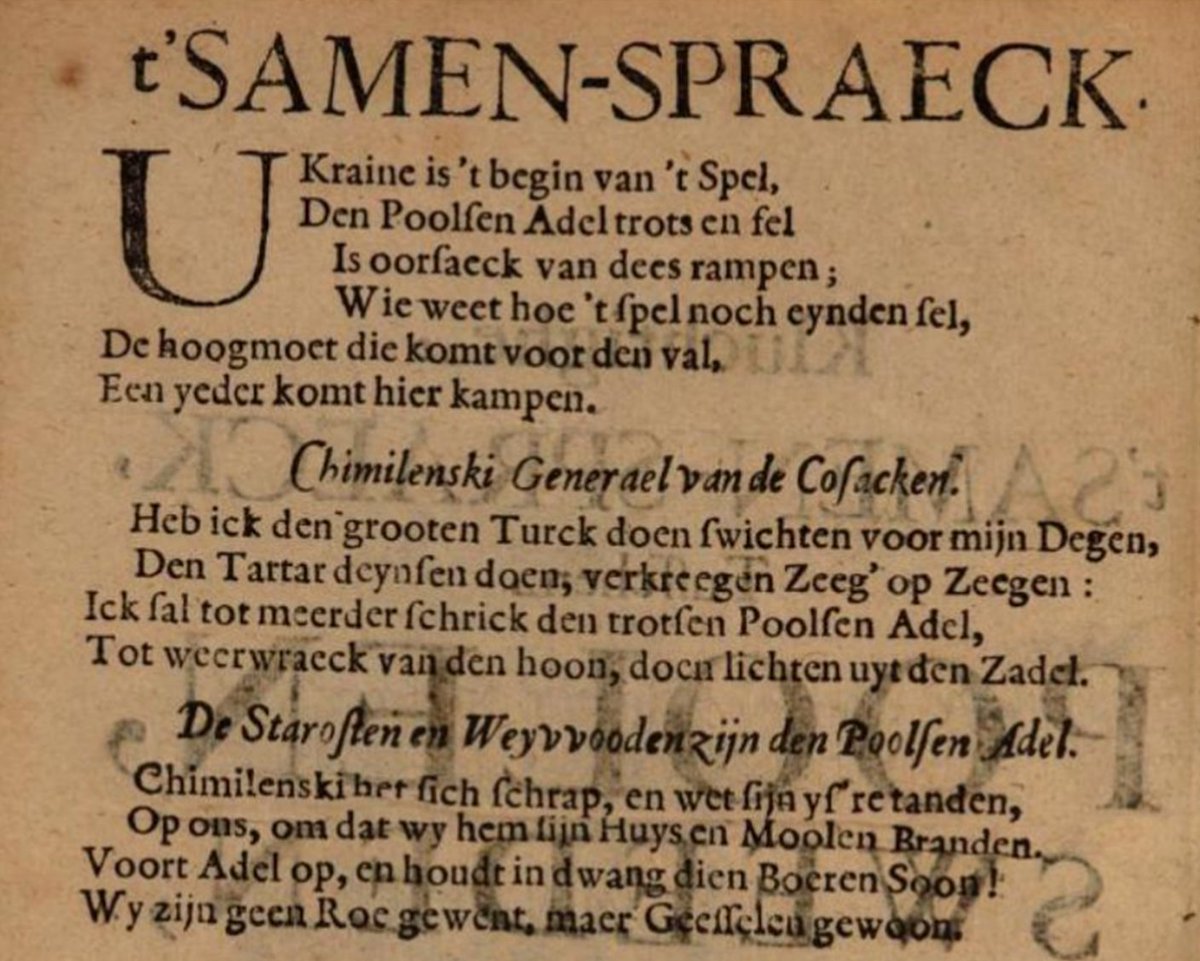 One final example dates from 1671. The poet Joannes Antonides van der Goes once again linked the ongoing fighting in Ukrainian territories with threats to the Dutch grain trade. Poland could feed the whole world, he wrote, if the country were not involved in wars with the Tatars, Turks, and Cossacks, led this time by hetman Petro Doroszenko. Echoing the earlier poem, Van der Goes stated that the Cossacks threatened to "lift the Polish nobility from its saddle".
These examples make clear that Dutch readers and writers had a keen interest in political developments in Ukraine, which was essential to the Dutch economy due to the grain it produced. To this day, Ukraine is one of the largest grain exporters in the world.
*I originally wrote this post for the social media outlets of the Dutch Embassy in Poland. This was post no. 30.